Future Cop: L.A.P.D.
Welcome to Roger's Future Cop web site. Future Cop is a game from Electronic Arts which was released in 1998. If you don't have it, get it! It's available for Macintosh and Windows (hybrid CD) or Sony PlayStation. Unfortunately it's no longer published, but used copies are often sold at internet auction sites.
Mac and Windows demonstration versions of the game and an update for the Mac version to 1.0.2 are still available. See the Goodies page for links.
This site contains tips on playing the game, the cheat codes, the hidden weapons and the 'secret' level. Use the navigation links at the left of the page to jump to the sections you're interested in.
Note: the info on this site applies to the Mac version. Most of the tips will work with the Windows and PlayStation versions too but they haven't been tested by me.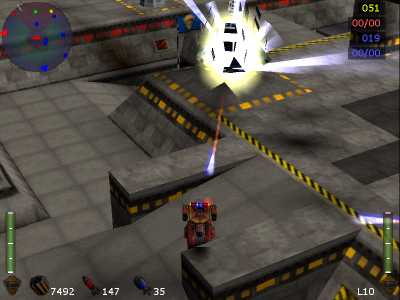 Internet Play
GameRanger is a free internet gaming service for Macintosh users. It enables you to play two-player games of Future Cop over the internet. You can download the GameRanger program from www.gameranger.com. You'll also need the Future Cop 1.0.2 update from the Goodies page.


Reviews/Interviews
If you want to read a review of the game there's a good one at the MacObserver column Wasting Time With The Idiots.

Mac Gamer's Ledge (now at MacGamer) has a review and an Old School MacGamer article. They also had an interview with Chris Conway, one of the game's creators, about the development of Future Cop. This is no longer available on their site, but a copy has been archived on the Programmer's Posts page.
"...3D driving game, which then became a Strike game (like Soviet Strike and Nuclear Strike, for Playstation and PC), which then became FutureStrike, which then evolved into Future Cop: LAPD (originally known as LAPD 2100). The whole process took more than two years, and in the end we have Future Cop for Playstation, PC, and Mac."

MacCentral has two reviews of Future Cop. Both have now been removed from MacCentral's archives, but are still accessible via the Wayback Machine: MacGaming Review and Hidden Gaming Gem. The second review had posts in the article's message board from Tim-John deVroede (listed in the Future Cop credits as Technical Art Lead) and Chris Conway (Software Engineer, and Sky Captain Trainer!), but these don't seem to have been archived so I have put them on the Programmer's Posts page.


hit counter
since 25 September 2001