VintageWare > Apple II > Software
---

Cool Apple II Freeware and Shareware
(i.e. programs I use)
Contents
---
by Brian Ballweber and Jeremy Chadwick of Digital Exodus
A classic desk accessory which monitors the DOC sound chip in the IIGS. It can be used as a programmer's debugging tool, but for the rest of us it works as a cool graphical display. Start a music program like SynthLab or ModZap playing, then enter DOCVu. Press ? for a list of key commands. The nicest display is the volume VU-meters, press V to get to it. There is an easter egg (an undocumented command), press control-D then control-E to bring up an About screen.
Download 41 KB
by Roger Johnstone
Replacement icons for the Apple IIGS Finder. Adds drop shadows to folders and gives the trash can a shadow gradient for a more three-dimensional look.
Download 3 KB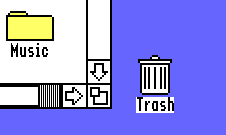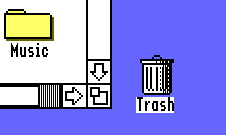 by Steve Stephenson
Apple IIGS file dialogs (e.g. open file, save file) can display a custom icon for different file types, however only a small number are included with the system. System Icons is an initialization file for System 6.0.1 which provides a collection of about 80 icons.
Download 13 KB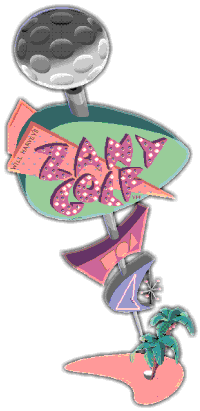 by Roger Johnstone
If you have the IIGS game Zany Golf you may have found it won't run from your hard drive. This simple BASIC program fixes that. It lets you install and run Zany Golf from any location.
Download 3 KB
---
VintageWare > Apple II > Software